Celebrating the work of our Reemarkabl senior citizen, Usha Kapadia.
When Gratitude and Giving is a Given. Let's meet India's remarkable senior citizen Usha Kapadia, a lifelong student, a knowledge seeker, whose passion for knitting meets her purpose to spread joy amidst needy children. She firmly believes in women empowerment and education especially for women, and earnestly feels, future generations should be givers rather than takers and gratitude and empathy is the key toward a brighter world.
It's the end of the year and we at Reemarkabl felt it was apt to feature a remarkable senior citizen of India, who believes in the act of giving, coupled with a deep sense of gratitude. Let's meet, Mrs. Usha Kapadia, who is entering lives and knitting her way into the hearts of children. It's a story where passion meets the purpose and through her talent and selfless work, she has extended her hands to help the society via NGOs. What's also noteworthy, that she still remembers and acknowledges the contribution and influence of her 9th-grade teacher on her personality and skills development.
Her daughter-in-law, Niloofer Kapadia proudly says that she is a lady who has infinite energy and the zest for life. Knitting for her is like a seamless act of creativity. Says Niloofer, "She is just watching TV and her hands are moving automatically and she is knitting her sweater, or she is knitting a cap. Also, I must be inspired as I see her earlier when I used to work, she used to manage the whole house as in, she used to cook, she used to look after my baby, everything. So, I mean, we don't do half as much as what she does. Now that she is relaxed as little, she does her knitting, she does her philosophy classes, she does her Geeta classes. She also does her online Harvard studies classes, and you name it, not one minute she is sitting free."
When asked, what lead her to bring this passion towards such a beautiful purpose for our society, she says, she was inspired by her niece, who was working in Hrishikesh (India) with children suffering from cancer. Because of chemotherapy, they lost their hair, so she started making topis (caps) from them. She says, "knitting became like a mechanical work for me. When I am watching TV, I become restless. So, my hands are moving, and I do this work. I feel very happy when I see smiles on the small children's face wearing these Topis and that's the only inspiration. I am associated with Sparsh and Each One Teach One. They distribute it to children. They send me photos also and I see the smile on the faces of children wearing Topis."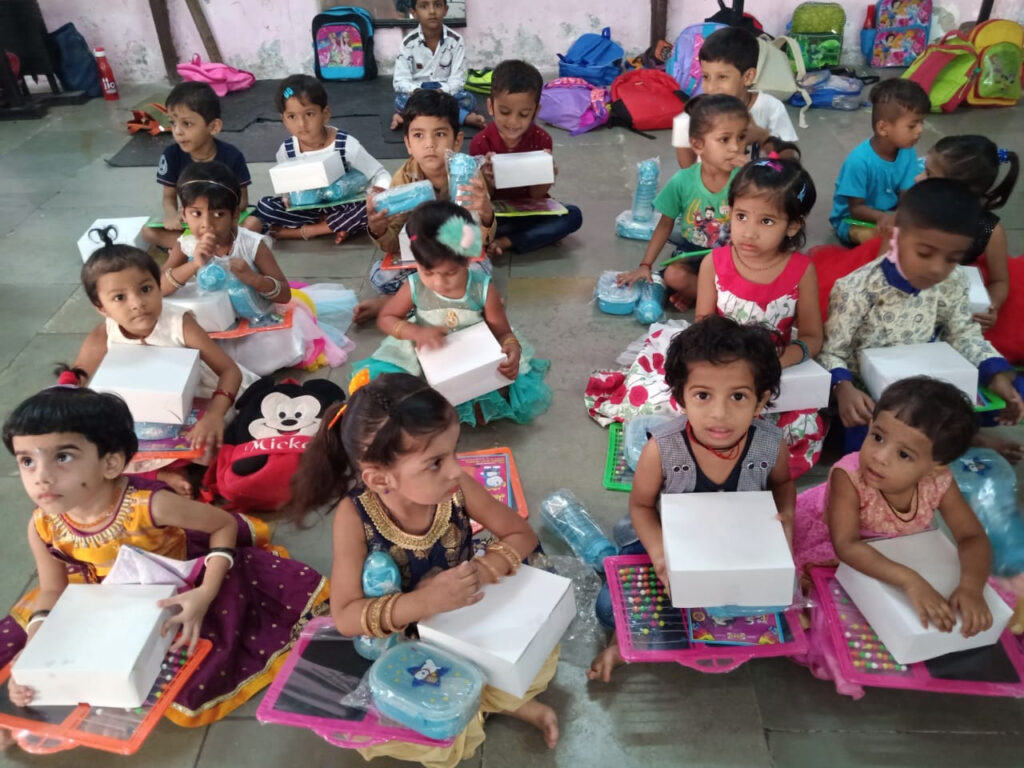 Learning is her passion. She wants to be a lifetime learner. She wants to be a student all her life.
Her message to future generations.
"The only thing I will ask them is to develop empathy and sympathy and be thankful for what you have and care for the people who don't have. Don't neglect them or illtreat them."
Her message on women empowerment.
"I think education is very important for women even for our housemaids or people staying in slums. So, they change their views they what the life is and they appreciate the values of life."
Her Granddaughter feels extremely proud of her Grandma. She says, she is really young at heart. She is very active. She is always on the move, visiting schools, to help children, to celebrate somebody's birthday at that school. Or she used to go to this place where they used to teach girls who had been abandoned different things. That is one thing that really inspires me about her.
Thank you, Usha Kapadia for sharing your work, passion and kind pearls of wisdom on Reemarkabl.